Shadow XT Patio Heater
The Shadow XT heater is a superb fully outdoors patio heater, offering high tech efficiency in a fully BLUETOOTH controlled unit including an integrated timer function. Itís additional, enhanced reflector amplifies the heating capabilities giving you all advanced, wind proof infrared heat, you could ever want outdoors.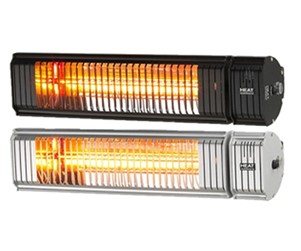 Shadow Heat and Beat
Based on the excellent XT heater, the Heat and Beat offers all the same advanced features with the addition of high quality BLUETOOTH speakers. Giving you high quality heat and waterproof outdoor sounds streamed directly from your phone, laptop or other device.
The Heat And Beat features 2kW of heat output as well as 2 bluetooth speakers mounted on each side and 3 LED backlights to illuminate the environment and create a party atmosphere.


Bluetooth Control
The Heat Outdoors BLUETOOTH app is available for both Android and Apple devices. Never before have you had so much control over heat output, timer, With a sliding scale control...heat really is at your fingertips. More than one heater? No problem at all! The app allows the flexibility to add multiple heaters and control all in one place.
The Bluetooth control box can be connected to a number of Shadow heaters to control them all using the app.