Well, winter is officially here and that means that your outdoor heating devices get dusted off and switched back on. Whether you are using outdoor heaters for your business or at home, they can be at times a very wasteful and an expensive venture to keep someone warm outside. So how effective are patio heaters? Most of the time, outdoor heaters have a habit of heating the surrounding environment and then travel upwards (as hot air rises) rendering the heat useless to the people seated around it.
Environmental studies have shown that outdoor heaters are only 1% to 2% efficient. The UK Government and the EU has contemplated whether they should introduce a ban on some types of heaters, particularly gas or solid fuel ones. So, the question to ask is; are there any efficient options available on the market and are they gas, solid fuel or electric outdoor heating devices?
There are three main types of outdoor heating devices which we should look at. They are Gas, Solid fuel and Electric heaters.
Gas Patio Heaters
Gas patio heaters have certainly modernised over the last few years and are more environmentally friendly than ever. Not only are they safer for the environment, they also come in some amazing designs and styles which means that no matter how 'different' your style is, there will always be a gas patio heater available to suit your taste. If you are using a patio heater for your garden, then these types of heaters can transform what was once used as a dumping ground over the winter months, into a beautiful chic new room attached to your house. Gas heaters can come as outdoor wall heaters, outdoor heating lamps as well as parasol heaters, meaning that you can enjoy your patio in almost all weathers.
The most commonly used gas heaters are LPG burners, which are found in Pubs, bar gardens and smoking areas, such as our popular Athena+ gas patio heater. These LPG burners use liquid petroleum and are more expensive than their counterparts. They are usually quite bulky looking and compared with the price of electricity, they are more expensive and therefore more idea for larger commercial environments.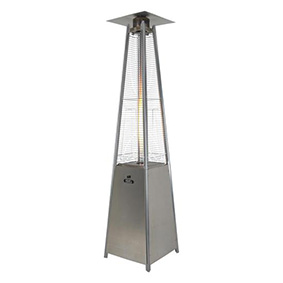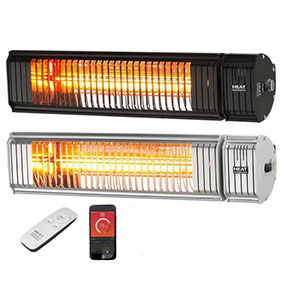 Electric Patio Heaters
The second type of outdoor heating is an electric patio heater. There are many advantages of using an electric heater over the other types of heaters available. The most important feature is the ability to turn these heaters on and off when required. This is the perfect way to save costs and electricity if no one is out on the patio. Most electric heaters available nowadays, come with an automated sensor that turns on when triggered. In addition, electric heaters are much more efficient and can focus the outgoing warmth at a target, meaning that the people surrounding this heater will get warm instead of the skies above.
Not only are electric patio heaters extremely effective as they do not emit any carbon dioxide into the atmosphere. Electric heaters use 85% less energy than gas patio heaters. Electric heaters are also smell and toxin free which is extremely beneficial. These silent heaters have also been known to be extremely cost effective providing instant heat with only the flick of a switch.
When buying a patio heater, the idea of electricity and water mixing is usually of most importance when buying an appliance for the outdoors. However, many patio electric heaters available are well insulated and can be used in most weather conditions, even torrential rain. They can also be left outside for long periods of time without the worry of degeneration.
A typical outdoor electric heater such as the Shadow 2kW XT Heater pictured above, uses approximately 36p/kW/hour to run and is the safest and most effective way of heating an outdoor area. Our Shadow XTO Heater is one of the most energy efficient electric patio heaters on the market by oscillating to heat as much available space as possible. Electric heaters are the easiest way to ensure everyone remains warm outside. All you need to do is plug it in and switch it on. With no smells, no storage hassle and no noise, electric heaters are the new way to go.
Solid Fuel Patio Heaters
The third type of patio heater is a solid fuel burner, which come in numerous forms such as fire pits and log burners. However, they usually use a controlled fire with pellets or wooden logs. These kinds of heaters create a really lovely environment for the people perched around them, and provide a camp fire experience. However, they produce a lot of smoke which can leave you feeling breathless, smelly (from the constant stream of smoke) and are overall quite bad for your health if you find yourself exposed to them for long periods of time.
The practicalities of having a fuel burner make it less useful for people trying to keep warm around it. These types of garden heaters take time to light and get up to a good level of heat. They also require constant maintenance and are over all much harder to keep going all evening. They are also less desirable in commercial settings where health and saftey considerations are perhaps a higher priority.
---
.
How can I make an outside heater more effective?
If you have a large outdoor patio, which needs to be heated, there are many ways to help make your heaters more effective. If you are trying to heat a large open space, then reducing wind is a good idea. Using windbreaks wherever possible will help insulate the area and will then therefore retain the heat. Wind has the biggest impact on heat and can send it in the opposite direction to where it is required.
Gazebos or awnings are another way to help insulate heat and can provide a more snug and enclosed space for you and your guests.
Parasol or umbrella heaters are another good solution worth looking into. Always make sure that the material used for these tents are fire-resistant and the heater is located a safe distance away from the material.
The easiest way to ensure everyone stays warm outside is the old trick of putting on more clothes, this will reduce the need for more heat from your outdoor heating devices.

Video answering FAQ - How much heat do I need?.
---