Saves space with a wall mounted electric heater
If you often entertain on your garden patio or you run a restaurant with a busy dining terrace, keeping floor space free means there's more room for family members or paying customers to relax.
Rather than look for a floor-standing unit, a wall-mounted outdoor heater may be better. It can easily be screwed into place above your guests and out of harm's way.
The Shadow Diffusion Wall Heater is designed to be wall mounted and is a very cost effective solution.
Need to turn up the heat indoors? The versatile Shadow Noir Lite can be mounted from an interior wall or ceiling. Thus making it the perfect space-saving heater for indoor or sheltered outdoor areas.

Efficient and effective wall mounted outdoor heaters
Shadow wall mounted patio heaters use infrared to provide instant heat for outdoor areas. The infrared heaters directly warm people close to the heater. In the same way the sun does. The wall mounting brackets are adjustable so that the heat can be directed where you need it. Remote control and Bluetooth control allow the heater to be controlled even when it is out of reach.
Costs less to run infrared wall heaters
All of our outdoor wall heaters use infrared waves to generate warmth. So, rather than heating the cold air that circulates around a space, they beam their warmth directly onto you. Reducing the loss of warmth and energy wastage.
Thanks to their efficiency, this type of heater generates warmth instantly – at the speed of light, in fact. This is due to the short-wave nature of infrared waves. Energy is turned to heat when they connect with people, objects and surfaces in the heater's direct path.
Infrared wall heaters use smaller amounts of energy over time, making them less costly to run than gas models. They are the perfect choice for areas which are busy for longer periods, such as pub smoking areas and beer gardens.
Long-lasting
Made from ultra-durable materials, our wall-mounted patio heaters are renowned for their longevity and are incredibly low-maintenance.
Because they're mains-powered, you won't need to waste time replacing fuel canisters like you would with a gas heater.
Developed for use in larger spaces such as warehouses and construction sites. The Shadow Fatboy Range of patio wall heaters are equipped with long lasting 5,000-hour infrared lamps. That's more than 6 months of powerful heat without replacing any heating components!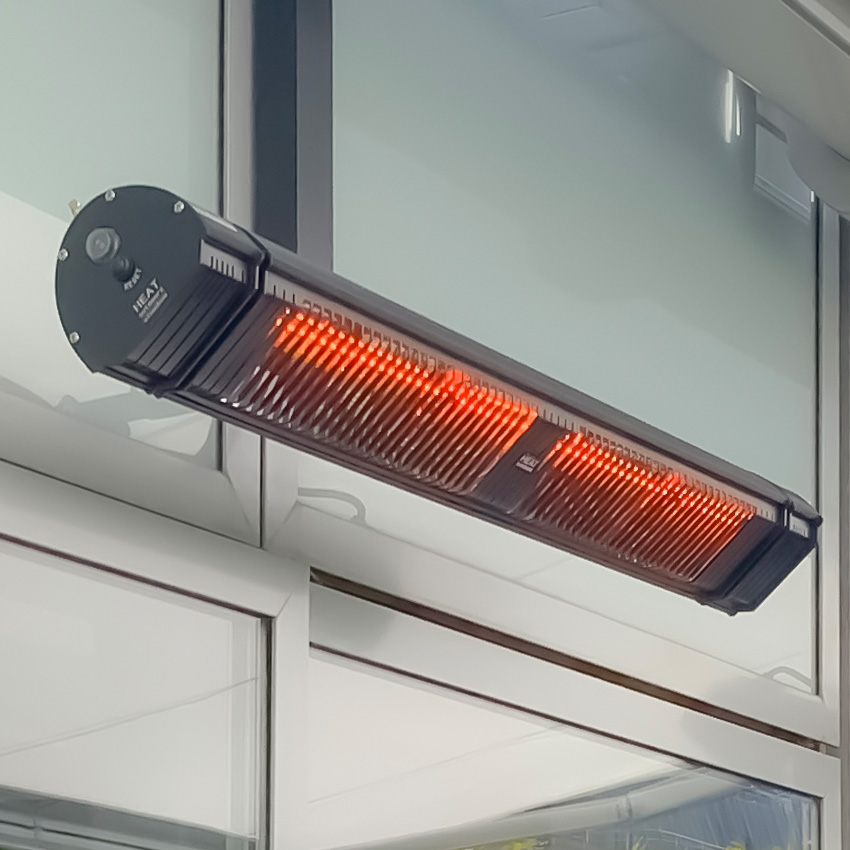 Our 3 best wall-mounted patio heaters
Picking the right outdoor heating solution can be tricky. To help we've compiled a handy list of the three best wall-mounted patio heaters. All available from Heat Outdoors, along with some of their defining benefits:
Flush and fancy
Built with great engineering precision and attention to detail, the Shadow II heater range is the most discreet patio wall heater in our collection. With the market leading ultra low glare plus lamps which reduce light output.
Ideally suited for stylish homes, high-end pub gardens and hotel courtyards. This sleek wall mounted heater can be mounted on an external wall. An awning can be used over the heater to provide additional cover.
If your clientele prefer a minimalistic and refined environment, this unobtrusive model could be the ideal solution.
Great heat, zero glare
The first Bluetooth controlled heater to hit the market, the Shadow XT outdoor wall heater. It was built for environments such as studios, restaurants and theme parks. Places where high performance and controllability are vital.
This wall-mounted patio heater is perfect for hospitality venues.
The BIG one
The ultimate high-performance heater, the Shadow Industrial Heater range was designed to be mounted 10 feet above the ground. Making them the ideal solution for garages, warehouses and sports and football arenas.
This model is available in three different strengths: 9kW, 13.5kW or 18kW. Despite its size it's surprisingly lightweight and simple to mount.
Caring for your wall-mounted outdoor heater
Maintenance – or should we say the near absence of maintenance – is one of the main benefits of an electric patio wall heater.
Thoroughly cleaning your wall heater with a slightly damp cloth once a year will be sufficient to keep it looking its best. We'd recommend you clean them in the autumn – since there are fewer insects around, bugs are less likely collide with the heat lamps and undo all your good work.
All of our wall-mounted electric heaters are fully weatherproof, meaning they can stay outside and be used in any conditions – so you won't need to bring them in during the winter months.
You may like to vacuum or dust the heat lamps on your appliance every now and then. A build up of dust can alter the smooth functioning of the heater. This can lead to a higher energy consumption.
Finally – for electrical safety reasons – it's wise to occasionally check the heater's electrical connection and wall socket are secure. If not, a few turns of a screwdriver will put things tightly back in place.