The emergence of infrared heaters makes it possible to obtain the best outdoor heaters. 'Al fresco', as we all know, offers relaxing enjoyment with the added ambience of being in the great outdoors.
Heat Outdoors are here to help you choose the best option. Whether for your patio, garden or other outdoor space. Infrared heaters can offer instant warmth at a variety of temperatures. With infrared heat, you have an incredibly stylish range of designs to choose from.
We've put together five of the most popular infrared units which are available now. They range from smaller, portable patio heaters to larger, more commercially effective outdoor heaters.
---
1. Shadow Sidekick 1.2kW Patio Heater
The Sidekick is small, sleek and stylish. Its lower output should not be mistaken as compromised model. It has been fashioned with a unique hexagon grill design - facilitating a 360° dispersion of heat.
This heater emits eco-friendly infrared heat which is ideal for conservatory heating. Can also keep the chill off when used as an under table heater.
At 65 cm tall and 38 cm wide, equipped with a handle, it is an ideal model for convenient transportation.
You can find out more about the Sidekick by clicking the link below
---
2. Heat Outdoors Empire 3kW ECO Carbon Infrared Patio Heater
Our Empire is a real customer favourite. Reviewed as one of the Best Patio Heaters in the Independent Newspaper. It is an infrared unit that is a testament to our brand. Its contemporary design offers a remote control functionality with variable heat settings. The PIR motion sensor enables the heater to turn on and off when it's needed.
Combining the carbon fibre infrared technology with the PIR sensor, the Empire has been designed for both domestic and commercial use.
You can find out more about the Empire 3kW ECO Carbon Infrared Patio Heater, below: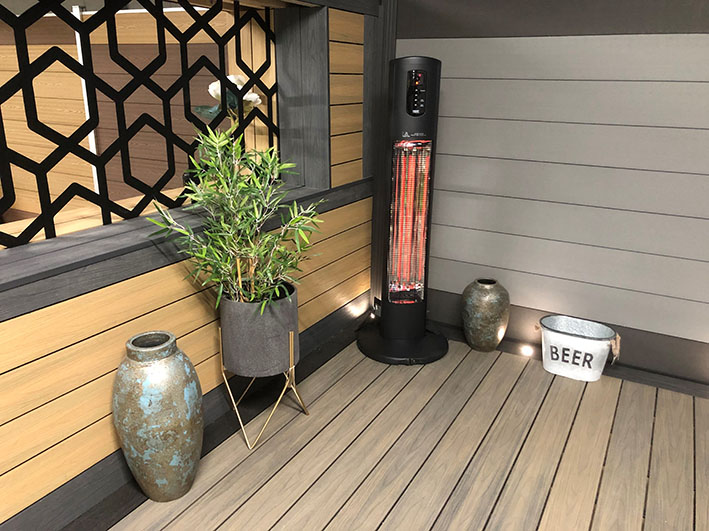 ---
3. Shadow II 3kW ULG+ Patio Heater
Shadow II is the first heater of a new generation of outdoor infrared patio heaters from the Shadow brand.
Ultra Low Glare technology is the way forward if you are looking for an infrared heater with minimal impact to your outdoor ambience. The Shadow II is by far the lowest light level short-wave infrared lamp we have ever developed.
Our combination packages allow you to purchase it with the Stainless Steel stand. Making the Shadow II 3kW ULG+ very portable.
You can find out more about the Shadow II patio heater with stand below: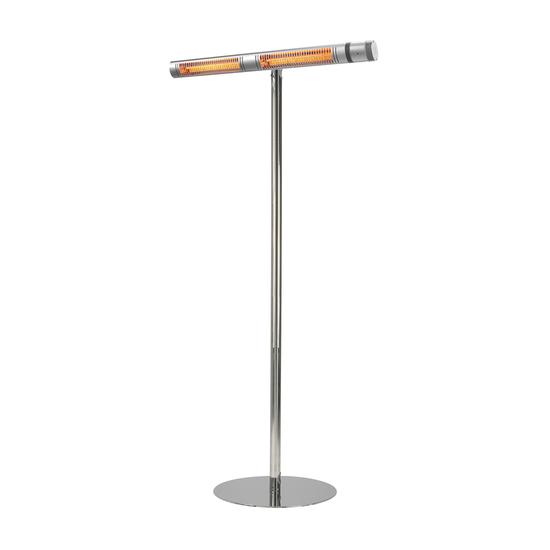 ---
4. Shadow 3kW Parasol Heater
The Shadow Parasol heater can be clamped safely to outdoor parasols (30mm-50mm) in seconds. Fitted with the latest infrared lamp technology as well as the lightweight aluminium construction. This makes the Parasol heater an ideal option for either commercial or residential outdoor use. The new design is exceptionally stylish. It has proven to be far more durable than any other parasol heater on the market.
Unlike the old style of parasol heaters, the Shadow Parasol unit offers replaceable heating heads. The dynamic three-way remote control, allows each head to be switched on/off individually.
Find out more about the Shadow 3KW Parasol Heater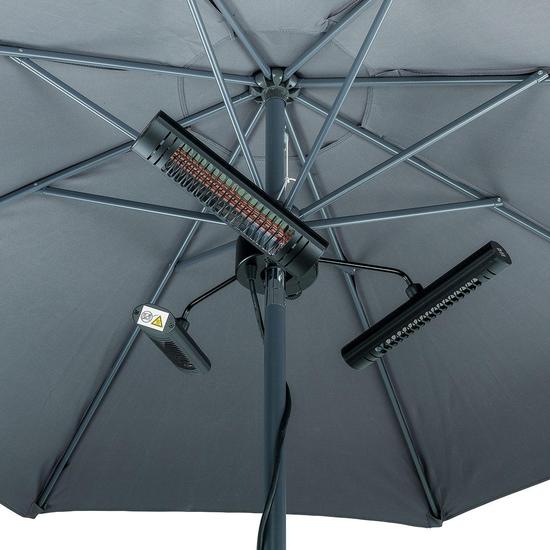 ---
5. Shadow Fatboy 2.4kW Mega Heat Patio Heater
When it comes to the Fatboy, it surpasses all heat boundaries. The Fatboy is equally suited to both outdoor patio areas and commercial environments.
The unique large parabolic reflector in the Fatboy ensures you get a more efficient heat output per kW than you would with other patio heaters. Essentially, more heat for less expense.
Used in combination with the Shadow Fatboy you'll find the Bluetooth Control Box a handy gadget to control your new setup from anywhere in the vicinity. Shadow Fatboy comes in two sizes. Be sure to check out what would be ideal in the environment you're looking to use them. They're the ultimate infrared patio heaters.
Find out more about the Shadow Fatboy 2.4kW Mega Heat Patio Heater