Select the best outdoor heater.
We aim to lay bare all the essential information you need to choose the right patio heater. Whether it be for your home or a commercial environment. People are surprised to find out how much there is to consider when buying their patio heaters. It is extremely beneficial to understand which heater is right for you. If you're unsure to seek further information and guidance.
We always offer detailed advice for a variety of outdoor heating installations. Whether it's one heater to take the chill off your garden table and chairs or a full al fresco dining setting. Without further ado, let's get to it.
Patio heaters for commercial use
In a commercial environment, infrared electric radiant heating is likely to be the most common choice. They are the most economical as there no gas cylinders to order, store or change. Today, a much more ECO conscious buyer is driving the marketplace. They are demanding better performance, lower running cost and solid environmental credentials.
Electric infrared heaters offering significant benefits over gas alternatives. However gas heaters do still remain a popular choice for many restaurants and bars. Often, they're a picturesque and captivating feature of an outdoors space. This has been shown to draw in customers to an entrance way or outdoor area. They're relatively straightforward to assemble and their gas cylinders can be easily refilled. The unit itself being very portable to different areas as needed
Electric infrared outdoor heaters sometimes have additional installation costs. This often requires a permanence which doesn't suit all locations.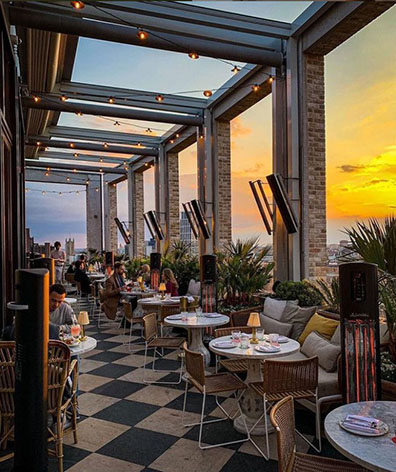 Patio heaters for use at home or in the garden
In a consumer or home setting, the choices are just as great. However, there are a lot of really poor products out there. In many circumstances they look like a good buy, yet, CAVEAT EMPTOR! don't deliver on their advertised performance. A 2kW rating on the box is telling you the power it consumes and not necessarily its heat output. There are often massive differences between a technologically advanced 2kW infrared heater and a poorly developed, cheaper 2kW alternative patio heater. We go into more detail about the exactly why in the sections below.
Home use gas heaters can still be a good option. Especially if your intended use is a few hours a week or short bursts during summer months. The additional running costs of gas patio heaters and the type of heat a gas heater delivers will not necessarily become a detrimental factor. If you're drawn to the aesthetic look of an open flame, it will also be hard to discount gas as your preferred choice. They also benefit from complete portability. Guests also like the very stylish spiral flames of the Santini ECO gas heater.
The key differences in electric infrared heaters
There are significant disparities between the kinds of electric infrared heaters available. Major differences exist in their effectiveness and suitability in differing outdoor settings.
The principle of radiant heating is well-established. There are important distinctions to be made between long wave, medium or short-wave emitter quartz lamps and heaters.
Electric infrared patio heaters use energy that travels in a straight line from the heat source. The heat spreads out over a distance by optical reflectors which direct it is a specific directions . For successful comfort heating, there must be reasonably even levels of heat throughout the area to be heated. Proper mounting heights of the individual heaters, accurate heater spacing, and heat wattage must all be considered to generate effective heating levels. An effective infrared heater must have a high-quality lamp (emitter) and a scientifically developed highly polished reflector. A bigger reflector usually has a better output.
Short wave infrared heat
Short wave high intensity quartz heaters work in the same way as the heat from the sun. They have a warming effect the instant the heaters are switched on. Short wave heaters warm people and objects which directly intercept the short-wave beam from the emitter (lamp) rather than the air between them; the result is a pleasantly fresh warmth rather than warm air which in all too common adverse conditions experienced outside, can simply be blown away.
Short wave infrared heaters are often the most efficent electric heaters. The Shadow XT Infrared Heater shown on the right is an example of an ultra low glare shortwave heater. It is controlled via a remote control or a Bluetooth app.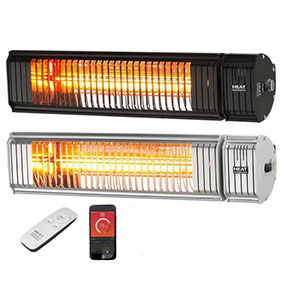 Long and medium wave infrared heat
Long and medium wave heat emitters have comparatively poor heating characteristics, especially when used outdoors. They rely on heating the air and do not penetrate to the skin to warm up the person or object. Because long and medium wave heat emitters heat the air, they are very susceptible to air movement and therefore not easily and reliably directional. On a breezy or a windy day, when used outdoors, their heating effect can be almost completely diminished.
In reality, a medium wave filament, which only heats up to around 900º Celsius, is more suitable for curing and drying processes rather than for outside heating applications. Despite this, many cheaper heaters are supplied with medium wave filaments, they can and are sold as exterior heaters and advertised as 'infrared'. Unsurprisingly, they often perform very badly!
Long wave heaters are most suited to heating inside areas where a low level of heat is required. Long wave heaters are often preferred by architects due to their low or non-existent light output and stylish designs.
Recent high-profile installations of our popular Shadow NOIR zero light heaters at Spitalfield Market and Covent Garden Royal Opera Houses are setting the tone for a renaissance in using semi-exposed and traditionally unheated areas to good and profitable use.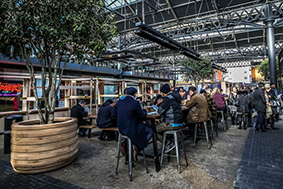 Short wave lamps
Short wave halogen heat lamps consist of a tungsten filament heated by an electric current to a temperature of approximately 2200º c. At this temperature most of the emission (95%) is in the short-wave infrared wavelength.
The moment short wave heaters are switched on, warmth is apparent, this gives short-wave patio heaters one of their main benefits. The heaters only need to be switched on at the times an area is occupied. This can save a lot of money over conventional heating systems that might require several hours to heat a building or space before it can be occupied. Specifically, when heating an outdoor space, with the wrong type of heat, the output may never increase the temperature of the space by any significance. This makes it all the more important to specify the right heaters with the correct output to have an effect. Without doing this, you could be needlessly wasting a lot of energy.
A red or gold coating usually encloses the infrared heat lamp to filter out the intense white light the heated tungsten filament produces and often provides a more aesthetically pleasing warm light. It's in this area which really sets the truly advanced technology apart from its competition in recent years.
In 2019, the latest Shadow ULG+ lamps take the visible light from over 12,000 Lux (clear lamp) down to a record breaking 0.9 Lux.
The following FAQ Video explains Infrared Heat.

Analysis of Lux light levels
View the diagram on the right to see how light emitted from short-wave infrared lamps vary from clear to the latest advanced ULG+.
The image shows the variation in Lux between regular lamps, gold short-wave infrared heat lamps and Shadow ULG and ULG+ heat lamps.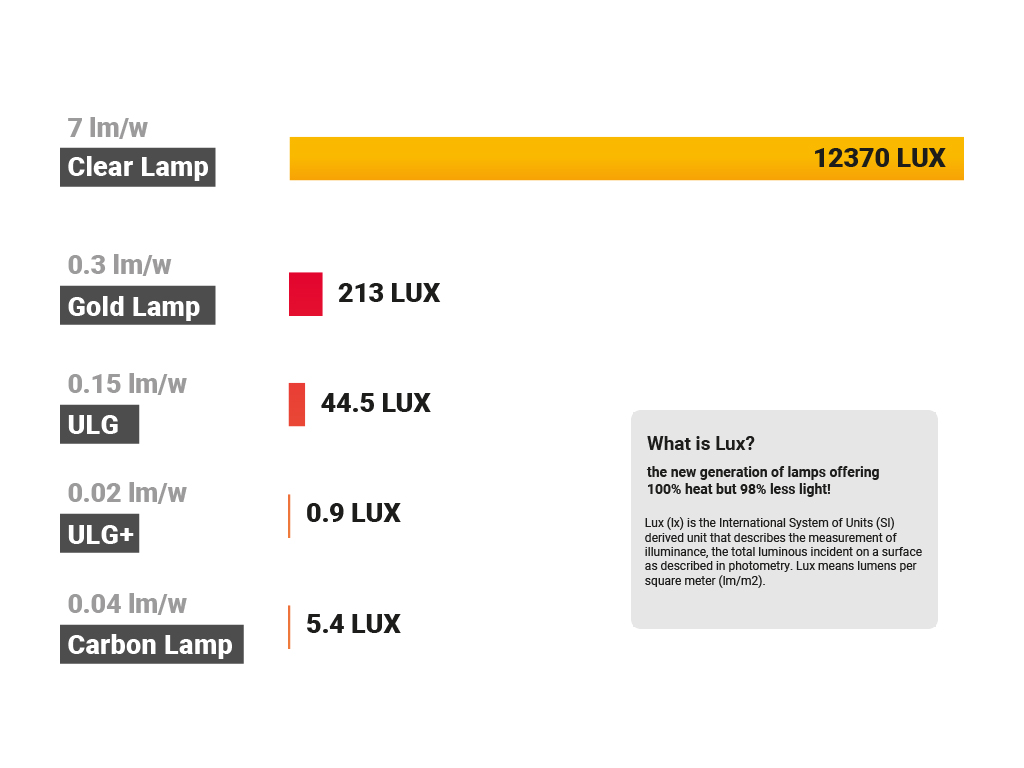 What else to consider?
When selecting the most economical electric heater, it is important to consider the place in which they will be situated. As a rule, most heaters should only be mounted horizontally. However, there are a few that have been designed to work mounted vertically and many of our Shadow ultra-low glare heaters can now be mounted vertically. Additionally, there is a whole host of brackets, extensions and stands which make mounting infrared heaters incredibly versatile, whether you have a large commercial parasol or fixing them directly to the outside wall of your house or restaurant.
The inside surface of any short-wave outdoor heater should always have a highly reflective mirror finish, long-lasting reflector which reflects as much of the heat energy out in the desired direction. A major benefit of being able to adjust the direction is that high intensity heating can be given at lower level even though the heater is mounted much higher. In Shadow heaters, we've pioneered the use of a parabolic reflector to further enhance performance. The parabolic reflector is scientifically proven to reflect the most even pattern of rays from directly outwards in across the reflected arc.
If an infrared heater is particularly cheap, like many products there will be a reason. A quality Infrared Lamp will cost upwards of £40.00. If you are buying an entire heater for £50 - £100, something is not up to standard and it simply won't do what you want it to.
Look for a heater that is robust and solid. A lot of heat is generated, and tinny weak metal and thin paint will not last long outdoors. If you are buying a pole mounted unit, make sure the pole has a heavy base and is not wobbly in any way, otherwise, the first gust of wind and you will be back to the store to buy a replacement. If the heater does not have replaceable lamps, you'll need to replace the whole unit.
Don't pay for features you don't need
Some heaters are marketed with a high IP (ingress proof) rating, for example, IP65. Although we deliver IP65 in many of our products ask yourself if this is worth any additional cost before specifying it or paying extra for it. Ask yourself if it is necessary for your application. Many heaters are installed under some cover, like an awning or parasol which provides some protection. If so, then IP24 is a good enough rating for permanent outdoor installation.
Can the heater you are buying be re-lamped?
In many outdoor heaters, the wiring is normally such that the heater will need to be stripped down by an electrical engineer for its lamps to be replaced or worse returned to the factory. Both are expensive and inconvenient for many reasons, however, an even bigger issue with most cheaper patio heaters is that the lamps CANNOT be replaced at all! They are not designed to be stripped down and replacement lamps are not available to purchase. Once the lamp breaks – which it will eventually, unless you can fit a replacement, the whole unit is only good for the dustbin.
It's also important to be aware of cheap copies of infrared patio heaters - the old adage "you get what you pay for" applies to most things in life and it's no different when considering what patio heater to buy. Cheaper outdoor heaters will often only use ordinary glass which does not allow heat to pass through and can shatter under heat duress. The component parts give poor heat output and sometimes an inadequate lamp life of around 12 hours rather than 5,000 - 7,000 hours we strive for throughout the Shadow range of high-performance patio heaters.
Consider ways to make cost savings
The running cost of most electric patio heaters is around 34p per kW/hour. There are several ways to ensure that costs are kept low without compromising on heat for those using the outside space. As we have seen, the most efficient electric heater are short-wave heaters. These heaters can be left switched off when the area is not in use. They work instantly when heat is needed again so need no warming up.
Several control systems are available that both enable heat output to be varied between 30 per cent and 100 per cent, as well as control the periods when the heater itself operates. These controllers can stop the heater turning on when the ambient air temperature is sufficiently high not to warrant them. Some switches can ensure the heater only comes on for a specified time period to avoid it being left on when perhaps no one is present. There are also options for PIR and (Time Lag) switches that detect movement and automatically turn the heater on when people are in its direct vicinity or combinations of the above to suit any individual circumstances. The use of our soft-start switches protects the circuit from sudden surges. This elongates the life span of the lamp by up to 33%.
Creating a pleasant and comfortable area for customers to be outside is no longer optional. In the hospitality sector it's an essential requirement to maximise potential profits. Ensure no space underutilised even when temperatures drop. It can be staggering to see how much of an impact a simple installation can have on trade. Some careful research into the options available for heating will ensure that your heated outdoor is efficient. The area can then help to improve profits and is rarely a drain upon them.
Choosing the best electric heater for your needs
Ask yourself: How much heat do I actually need?
Do I need heat all year even, when the outside temperature is below freezing?
Where will I mount or stand the heater?
What power source is available?
Does the heater need to weather/rain proof?
If buying a parasol fitting heater, how often will the parasol need to be taken down?
Who controls the heater? The customer or me?
Perhaps a timer switch is needed to automatically switch off the heat?
Perhaps a controller is needed to adjust the temperature?
If you know the answers to these questions, the heater(s) will usually choose themselves. However, we are always pleased to speak with our customers and make recommendations based upon your specific circumstances.
Feel free to contact our friendly team here at Heat Outdoors either via phone on 01279 466500, or via email at [email protected]
This post was originally published in 2017 and updated on 9/12/2021.