---
Shadow Warehouse and Workshop Heater Coverage Areas
Heat Outdoors range of infrared warehouse and workshop heater packs are perfect for these spaces. These smaller commercial spaces still require a good level of industrial type heat. The warehouse and workshop range is great for locations where mounting heights are much close to the workspace. In these areas a more comfortable level of controllable heat is preferable. The diagram below offers guidance of the heat coverage. The images show what to expect from a wall mounted Warehouse heater.
The infrared warehouse heater range is suitable for ceiling mounting up to 3.5m high. The warehouse range is designed for ceiling or wall mounted locations.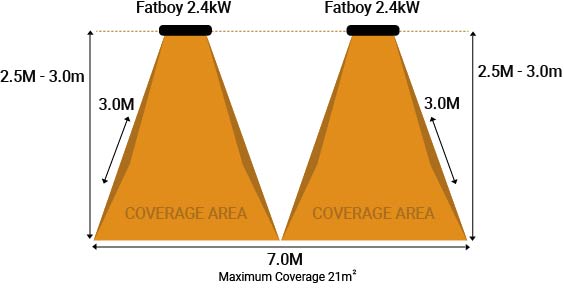 ---
How much infrared heat do I need for my space?
There are a number of factors which will impact how much heat you will need. Firstly, and possibly most importantly, the size of the area you want to cover should be considered. Even the most powerful infrared heater will struggle to provide sufficient heat if underspecified for the space in question.
At Heat Outdoors we roughly base our specifications on the 'rule of thumb' that 1kW of heat will adequately cover an area of approx. 5 square meters of floor space when used in workshops. Other external factors will affect this measurement. The level of airflow through the area is the first factor. The mounting heights that can be achieved is the second factor. Finally the personal preferences as to how warm you actually want the area to be and feel. The heating level required will of course differ for different workers. For instance active workers who are already clocking up plenty of kinetic warmth require less heat. Workers who are stationary positioned at workstations or benches will need more.
We are always here to help you make the right decision. Our knowledgeable specification team are available by phone, email, live chat, and online forms. Send us in photographs, specification drawings, diagrams or measurements. Our team will be sure to provide a comprehensive workshop heating plan for you.

---
Packing Bays or Work Bench Heating
The Shadow infrared heater is perfect for workshops or warehouses. It provides focused heat for industrial work bench and packing areas. For longer bench or parking area spaces, we would generally specify multiple single lamp heaters. These can be spaced along the full length of the area. This type of multiple infrared heater installation would efficiently heat a long slim area.
For larger packing areas or work bench spaces, double infrared hanging heaters over the work area are suitable. They would offer a superb, consistent and proportionate heat output without the need for wall fixings. In addition, they don't take up valuable floor space.
Electric infrared workshop heaters provide instant heat in zones so that heat is used in only the areas that require it and only they need it. This creates a very efficient heating solution.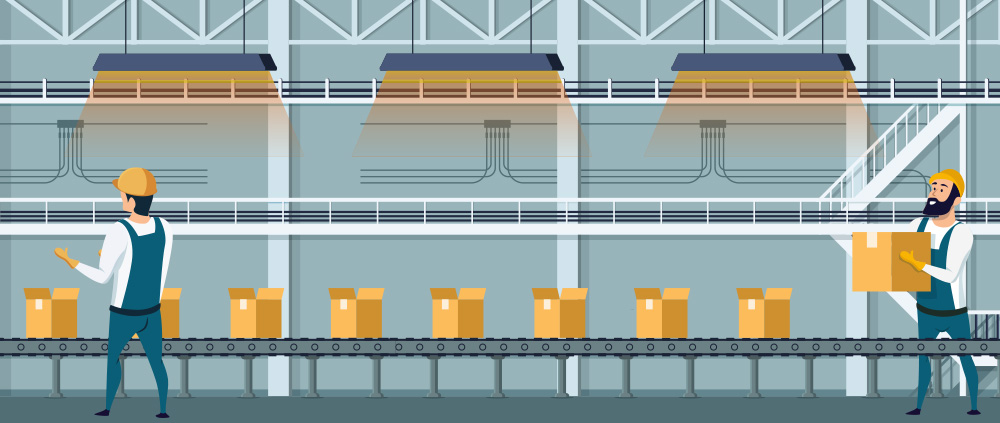 ---
Hanging, wall mounted or free standing heater options...
With adjustable hanging chains and a wall mounting bracket sent as standard with almost all 3kW + models, you can achieve a warm and unobstructed working space. The supply of both these fixing types will further allow you to adjust the installation type. This allows for flexibility should a remodel or redesign of your workspace require this. Providing workable, versatile infrared heating options that can be modified in line with your workspace.
For working areas that do not have the facility for hanging or wall mounted heaters, the shadow infrared free standing heater options are a great alternative. Offering mobile personal heating, that can be rearranged with ease. The Shadow free standing infrared range provides superb inbuilt safety features. These include anti tilt sensors and touch guards to assist in providing a warm, but safe, work bench or packing space.