Fire Pit Origin
Homo sapiens have been utilising the humble fire pit since the stone age! Originally used for cooking and to keep warm, the modern fire pit creates a comfortable al-fresco lounge space. Loved by many, the modern fire pit is aesthetically pleasing and acts as a focal point for any outdoor gathering. They also create an ultra-cosy atmosphere, keeping you and your guests warm when the sun goes down.
Gas Fire Pits
The average gas fire pit is somewhat smaller than a wood fire pit, due to not having to hold large logs. The gas variety has been designed with both aesthetics and convenience in mind.
Mostly designed around faux wood, pebbles or glass. Being powered by gas, this type of fire pit is very easy to switch on and off.
Gas fire features will require either a natural gas line to be run from your house by a plumber, or using a propane tank to fuel the fire, the propane tank option is easier, more portable and less expensive.
Also, from a safety point of view, gas fire pits are much cleaner burning and safer than the wood burning variety as there are no unpredictable flames or flying sparks that can occur with wood fire pits. For this reason a gas fire pit can be installed on a deck, whereas the wood burning type cannot.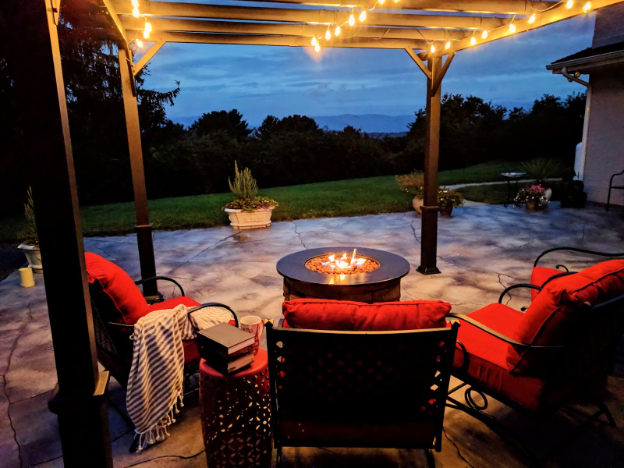 Neither type of fire pit should ever be used indoors or in an enclosed space unless properly ventilated as the buildup of toxic smoke and gases like carbon monoxide are extremely harmful to humans.
Wood Burning Fire Pits
There are certain types of wood that burn well and others that should never be used in your fire pit. Harder woods such as elm, ash, beech, oak and birch are the best burners. However, you will want to avoid using woods with a high resin content. Generally speaking, woods that weigh more will generate more heat and burn for longer.
On the flip side you should never burn wood that is rotted, wet or mould and softer woods such as pine or cedar burn very fast and produce an unwanted amount of smoke. Older wood that has not dried properly or younger "green" wood also emits excessive smoke due to the moisture inside the wood grain.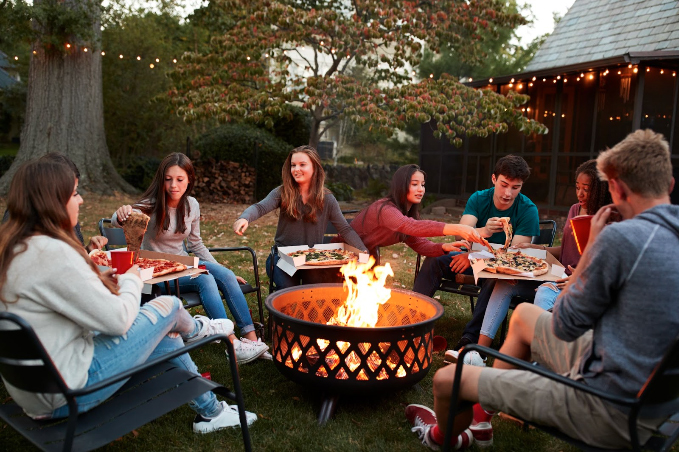 DIY Fire Pits
The only necessary requirement for a homemade fire pit is a hole dug in the ground. You will then want to layer the bottom of the hole, starting with a layer of sand, then on top of the sand add some gravel, fire pit glass, paving stones, bricks or lava rocks. You can even use dirt from your garden, or poured concrete. Use hard, dense rocks that are less likely to absorb water and explode under high temperatures.
Your fire pit should be between 35 and 45 inches inside diameter. This should allow gatherers to get close enough to chat around the flames and also create enough room for a reasonably sized fire. It is recommended that your pit is lined with a thick steel ring, as an added precaution.
Outdoor Fire Pit Overview
In summary, metal wood fire pits are cheaper and more portable but gas fire pits are more convenient to switch on and off, safer and usually more aesthetically pleasing & a hole in the ground is not usually desirable in a tidy garden.
Whichever design you decide is best for you, a fire pit is a great addition to your garden or outdoor space. Surrounded by sofas or outdoor seating topped with cushions, you will have many years of pleasure, warmth and ambience.
Be sure to check out our range of Umbra gas fire pits.