Alternatives to wood burning fire pits
In this article we look at the environmental impact of wood burning fire pits and what alternatives are available.
Fire has been a source of fascination to humans ever since they discovered how to use it. There is a certain joy to be gained by sitting round a warm open fire in the garden that we all enjoy. Recently wood burning fire pits (and wood burning stoves used indoors) have been marketed as an environmentally sound source of heat. This is because they burn wood which is considered to be a renewable source of fuel.
Increasingly research is showing that there are some downsides to wood burning fire pits as a method of heating. This research is linking many respiratory problems with inhaling smoke and pollutants. It can affect your overall immunity and make existing health conditions worse. Children's health is particularly affected by fire pit smoke. Their lungs are still developing and they breathe in a larger amount of air than adults.
Burning dry wood is particularly important so as to make your fire hotter and reduce the level of the harmful smoke. Your wood needs to be less than 20% moisture content so should ideally be stored indoors.
There are also a number of drawbacks to burning wood:
Smoke is proven to damage lungs and causes respiratory and other illnesses
Smoke can annoy the neighbours and can cause disputes
Wind causes smoke to blow into the faces of your guests
Your clothes smell the following morning and usually need to be washed
Wood fire pits are difficult to light and get going
Firepits are very hot and there is a risk of burns especially with small children
The high heat levels can damage nearby plants in the garden
They create a mess which needs to be cleaned up the following day
Alternative outdoor heating solutions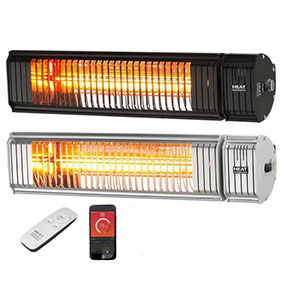 Electric Infrared heaters
We believe that electric infrared heaters such as the Shadow range of outdoor heaters are the best way of heating outdoors. Shortwave infrared heat is like the sun and heats objects not the air. Think about walking down a road on the shady side and then crossing to the sunny side. Instantly you can feel the warmth. In the case of an electric infrared heater this is at the flick of a switch.
Electric heaters do not produce any local pollution. Clearly the burning of coal and gas at power stations is still needed to produce some of our electricity but this is reducing and therefore reduces the impact of electric outdoor heating. Even the best electric heaters don't have the same camp fire experience as the fire pit but the new ultra low glare heaters do not give out the high levels of glow like the older models did.
Gas Patio Heaters
Gas patio heaters are less efficient than the electric alternative and are about 10 times more expensive to operate but have the advantage of being cheaper to buy and install.
But there is no doubt about it, gas heaters are stylish. They provide a romantic and atmospheric alternative to electric heaters.
Gas heaters are a popular choice for high-end restaurants, bars and urban food markets. They are stylish enough for even the most discerning person to bask beneath, and they provide an instant visual impact.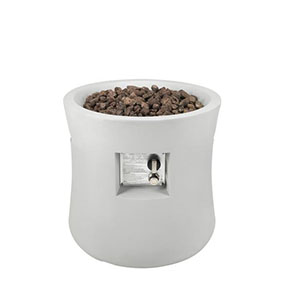 Propane Gas Fire Pits
Stay warm at your garden party or outdoor gathering. The Heat Outdoors Umbra gas fire pits are warm, fun and stylish.
Gas firepits use LPG gas to fuel them so they are still not as green as an electric heater. They do eliminate some of the negative aspects of the wood burning fire pits though. You can be sure that as well as keeping you warm outside the look of the gas flame is enchanting.
The heat conducting rocks really sets off the warming feeling you get from the Umbra range. Whether it's those summer evenings or chilly winter nights the Umbra gives you memories. Extending your evenings long into the dark.
Read another article on Outdoor Fire pits
Enjoy alfresco moments almost all year round with an outdoor firepit
is our latest lifestyle article.