Industrial Infrared Heaters
Shadow Industrial Heaters
The most advanced short-wave industrial infrared heating system for factory, warehouses, garages, workshops and industrial spaces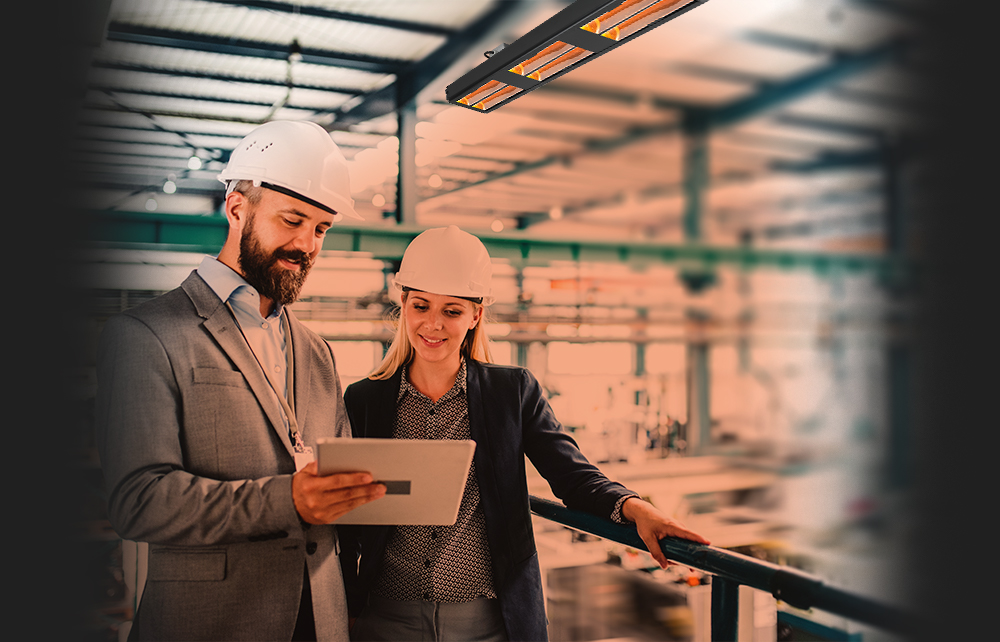 Our Shadow Industrial heaters range combines the marketed leading Ultra Low Glare infrared lamp technology with advanced 304 stainless steel construction allowing us to combine up to 18kW of short-wave infrared heat.
Infrared industrial heaters offer an ideal alternative to traditional gas or blown heating systems. The direct short-wave infrared emitted heats people and objects directly; they efficiently heat specific areas of wide open commercial and industrial spaces. They can be used to heat workbenches, packing desks, workstations and more without the need to waste energy heating the whole space those areas are commonly found.
If you have a workshop or warehouse, stadium or work area with high ceilings or entrance ways which are constantly in use, Shadow infrared heaters heat areas where people are working to a comfortable temperature while using less energy than other solutions. Because of the direct nature of the infrared light ways, Shadow Industrial heaters donít take long periods of time to become effective and donít waste heat when doors are opened.
Find out more about the Shadow Industrial heating and electric warehouse heater products by clicking on the links below.
Three reasons why Shadow Industrial is the heating system of choice for hundreds of industrial workplaces
1
Instant heat
Short-wave infrared heats objects instantly with a specific wave-length of light. Perfect for factory heating or warehouse heater solutions.
2
Less Energy Waste
Short-wave infrared heat cuts through elements like airflow to directly heat objects and by specifically targeting people and objects in range
3
Easy to install
Shadow industrial heaters are easily installed to warehouse structures, walls, ceilings or structural beams
Shadow Industrial Heater Coverage Areas
Find out the ideal industrial infrared heater for your requirements using the approximate coverage diagram below.

Frequently asked questions
How much heat do I need for my space?
The amount of heat you will need always depends on area size airflow and how much you need to raise the temperature for people using the area as well as the height the heaters are being mounte. As a 'rule of thumb' we advise that 1kW will cover approximately 3 square meters of floor space. Or why not contact us for completely FREE advice on what will work, we've specified hundreds of systems across the UK.
close this
Can I use regular power outlets?
No, our Industrial infrared heating range starts with the 4kW model which cannot be run using a standard electrical spur. Consult your electrician when specifying the exact power source you will need to configure as these heaters run off a 415V current.
close this