---
The perks of an electric parasol patio heater
Outdoor dining areas and pub gardens are busy places – especially during the spring and summer months.
Clearly, customers enjoying the outdoors deserve to be kept comfortable at all times. Our stylish range of outdoor parasol heaters bring comfort right to the table. They are an invaluable asset, whether at home or in a commercial environment.
Heating fit for eating
A parasol patio heater is a great way to provide gentle, consistent heat that complements the dining experience.
The Shadow Parasol Heater features a powerful yet balanced heat distribution. Combining parabolic heat lamp reflectors with the latest low-glare technology. Beaming gentle, ambient heat – it won't spoil your salad or cause you to break out in a sweat.
Providing instant heat at the touch of a button, the Shadow Parasol Heater is suitable in your garden or in an al fresco restaurant bistro, pub garden or bar setting.

Video of a Shadow Parasol Electric Heater - 3kW of output from these umbrella heaters.
A stylish space-saver
Constructed from lightweight aluminium and finished with a thick, high-quality powder coating. The Shadow 3kW Parasol heater is stylish and functional.
With a slender, adjustable mast holder and mounting system, it fits seamlessly into upscale restaurants. A parasol heating system which avoids cluttering the appearance of a dining area. This gives it a distinct advantage over floor-standing patio heaters, which can overwhelm intimate settings.
Heat large groups with ease
Have you ever had to move your chair into an awkward position to feel the benefit of a patio heater? Built to provide comfort to the whole table, Solamagic is available in single, double or quadruple versions – nobody feels left out.
Choosing the best parasol heater
To the untrained eye, outdoor parasol heaters all seem much of a muchness. However, depending on how often you use your parasol (and how many people you usually entertain) it's wise to shop around before racing to the checkout.
Think through storage
Few people are lucky enough to live in a sunny location all year round. If you live in the UK, your garden parasol is unlikely to be up during the winter.
Designed in Britain and developed to fit most garden and centre-pole parasol systems (poles measuring 30–80mm in diameter), the Shadow umbrella heater can be mounted or removed in seconds and is easy to store.
How robust do you need?
For logistical reasons, coffee shops, food markets and restaurants often have more sophisticated, semi-permanent parasols and canopy systems in place. These are sturdy enough to be left up overnight and make it quicker and easier to set up the dining area the next day.
In these locations, a super sturdy model such as the Solamagic infrared patio heater is ideal. Featuring a solid mounting structure and waterproof power management system. Once it's up, you can leave it in place for as long as you like.
Finished with thick, white powder coating, the Solamagic is the sturdiest of our parasol-mounted units. It is also suitable for larger shade masts measuring 45–90mm in diameter.
Why a garden parasol with heater makes sense
In a changeable climate like ours, enjoying drinks and meals in the garden all year round sounds like the lifestyle of a mediterranean millionaire. Not so.
Originally the preserve of high-end restaurants and hotel resorts, parasol patio heaters are now commonplace in pubs, cafés and back gardens across the UK.
Finding the ideal garden parasol with heater attached can be tricky, though. Many garden centres only sell basic garden furniture. Their staff aren't knowledgeable enough to give tailored outdoor heating advice.
At Heat Outdoors, we like to think we know a bit about developing outdoor technology. We provide heating systems built to your precise requirements. Our dedicated customer service team are on hand to answer any questions you might have, no matter how bespoke.
If you need guidance to help plan a comprehensive heating system for your pub garden or commercial dining area we are here to help you.
Just call 01279 466 500 (9.00am to 5.30pm, Monday to Friday) or email [email protected] to speak to one of our team.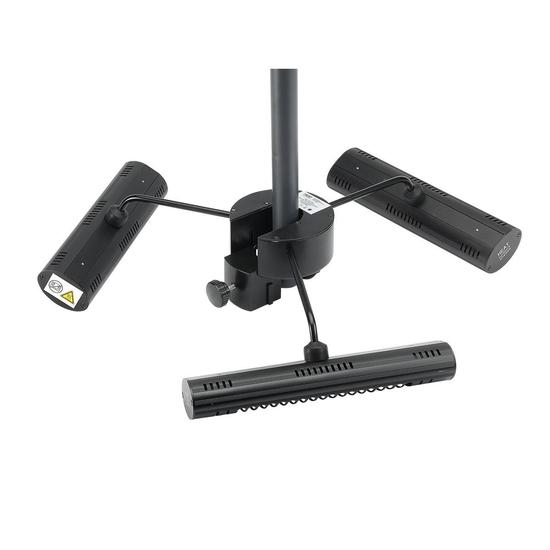 The pinnacle of umbrella patio heaters, from Shadow