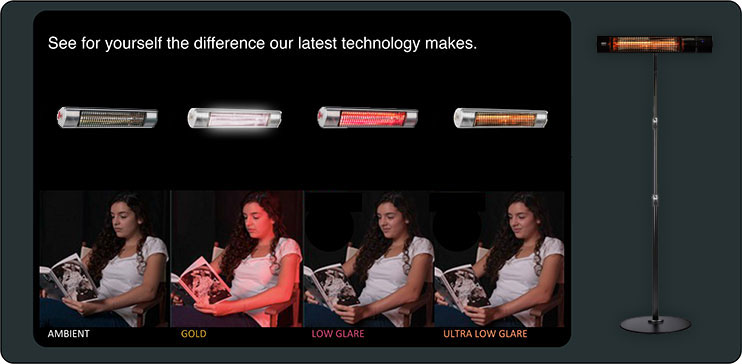 GOLD
The intensity of heat and light you experience with a Golf lamp is common throughout the industry. It is a good choice for basic heaters and 'it does the job', however, the very bright light it emits can seem rather invasive. Gold lamps also tend to make all the surrounding area turn a reddish pink hue.
LOW GLARE
Developed by Heat Outdoors laboratories in 2011, LOW GLARE offers an 80% reduction in visible light output with almost no reduction in heat output. The light itself that is emitted tends to be redder than the industry standard 'Gold' lamps, however, it is not at all painful or bright even when stared directly into. LOW GLARE lamps will have very little effect on the colour and lighting of surrounding people and objects.
ULTRA LOW GLARE
ULTRA LOW GLARE is our lab's latest and the most advanced addition to our range. It is exclusive to Heat Outdoors Shadow and Burda's Term 2000 range of heaters. The advantages of choosing ULTRA LOW GLARE are clear for all to see. With an amazing 90% light reduction, this exclusive Heat Outdoors lamp emits such a soft warm natural yellow glow, makes your outdoor experience more comfortable and natural feeling than ever before.
Heat Outdoors are the leaders in this state of the art technology and the only retailer who design and manufacturer it. One day out competitors will, once again, follow our lead, but in the meantime, Heat Outdoors ULTRA LOW GLARE is the ultimate lamp to choose for overall comfort, warmth and performance.
Heat Outdoors, the innovators in patio heaters.
The inventors of Low Glare Infrared.