Replacement Low Glare Lamps
Replacement low glare heater lamps and bulbs from Heat Outdoors are simple and easy to replace and mean that you do not have to be without your trusty patio heater for any longer than it takes to fit your new bulbs. With simple, easy and clear instructions provided, plus help always on hand at the end of the phone from our friendly staff, you never have to worry about the cost of getting someone in to fix your heater. Here at Heat Outdoors we also offer a huge range of patio heater accessories such as stands, clamp, brackets and covers; all at great value rates.
What singles out Heat Outdoors from the rest is an excellent after sales customer service, where we are proud to make sure that after sales is not an after thought. If there is something that you cannot find on this page or are unsure of what lamps or stand will fit your heater then our friendly staff will be happy to assist you.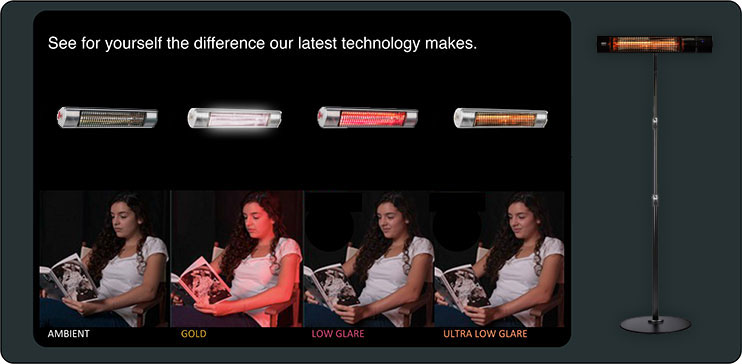 GOLD
The intensity of heat and light you experience with a Golf lamp is common throughout the industry. It is a good choice for basic heaters and 'it does the job', however, the very bright light it emits can seem rather invasive. Gold lamps also tend to make all the surrounding area turn a reddish pink hue.
LOW GLARE
Developed by Heat Outdoors laboratories in 2011, LOW GLARE offers an 80% reduction in visible light output with almost no reduction in heat output. The light itself that is emitted tends to be redder than the industry standard 'Gold' lamps, however, it is not at all painful or bright even when stared directly into. LOW GLARE lamps will have very little effect on the colour and lighting of surrounding people and objects.
ULTRA LOW GLARE
ULTRA LOW GLARE is our lab's latest and the most advanced addition to our range. It is exclusive to Heat Outdoors Shadow and Burda's Term 2000 range of heaters. The advantages of choosing ULTRA LOW GLARE are clear for all to see. With an amazing 90% light reduction, this exclusive Heat Outdoors lamp emits such a soft warm natural yellow glow, makes your outdoor experience more comfortable and natural feeling than ever before.
Heat Outdoors are the leaders in this state of the art technology and the only retailer who design and manufacturer it. One day out competitors will, once again, follow our lead, but in the meantime, Heat Outdoors ULTRA LOW GLARE is the ultimate lamp to choose for overall comfort, warmth and performance.
Heat Outdoors, the innovators in patio heaters.
The inventors of Low Glare Infrared.