---
Our video guide to choosing the right infrared industrial heating solution
Steve Levy the founder of Shadow Heating explains they key factors to heating warehouses and other industrial premises. Watch the video and give us a call to talk though your premises so that you can specify the best solution for your unique circumstances.
Shadow Heating is your heating system partner, we will do everything to find you the best heating system for you. We can work with your electrician to ensure the installation goes smoothly.
As a basic guide 1kW of heat power will cover about 5m≤ on the ground. Use this information to work out how many heaters you'd require. If you're looking to heat a larger area of 100m≤, then you're going to need about 20kW of heaters to heat that area.
We will talk you through what infrared heating system works best for you so you've got the perfect solution.

---
Shadow Infrared Industrial Heater Coverage Areas
Heat Outdoors range of large infrared industrial heaters offers powerful heating solutions. Suitable for areas in which a high ceiling mount is required. The diagram below offers a graphical depiction of the heater coverage you can expect from the industrial infrared heaters range, when ceiling mounted.
The infrared industrial range can also be wall mounted, for spaces in which the ceiling height is simply too high to achieve an adequate heat distribution, or heat is required closer to the working area. In particular the lower kilowatt infrared industrial heater units can be used above larger industrial production lines, or car industry work bays for instance.

Note: the coverage area is a guide only and calculated for effecting heating in the colder months. The areas given can be influenced by a number of additional factors. Heat is subjective and different people feel warm at different heat levels and people who are more sedentary and still, will need more heat than those that are more physically active at work.
---
Heat Outdoors range of infrared warehouse heater packs are perfect for smaller commercial spaces, which still require a good level of industrial heat. The warehouse range is perfect for locations where mounting heights are much closer to the workspace being used. In these situations a more comfortable level of controllable heat is preferable. The diagram below offers a graphical depiction of the heater coverage you can expect from the Warehouse heater range, when wall mounted.
While the infrared warehouse heater range is suitable for ceiling mounting up to 3.5m high, the warehouse range is ideally suited to wall mounted locations.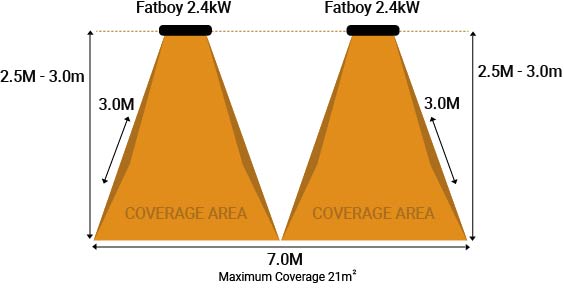 ---
How much infrared heat do I need for my warehouse space?
There are a number of factors which will impact how much heat you will need. Firstly, and possibly most importantly, the size of the area you want to cover should be considered. Even the most powerful infrared heater will struggle to provide sufficient heat if underspecified for the space in question.
At Heat Outdoors we roughly base our specifications on the Ďrule of thumbí that 1kW of heat will adequately cover an area of approx. 3 square meters of floor space. Other external factors will affect this measurement, such as the level of airflow through the area, the mounting heights that can be achieved and also personal preferences as to how warm you actually want the area to be and feel. The heating level required will differ for instance for active workers who are already clocking up plenty of kinetic warmth, and workers who are stationary positioned at workstations or benches.
We are always here to help you make the right decision, with our knowledgeable specification team available by phone, email, live chat, and online forms. Send us in photographs, specification drawings, diagrams or measurements, and our team will be sure to provide a comprehensive heating plan for you.
---
Can I use regular power circuits?
Heat Outdoors infrared industrial heater range offers efficient heat that can run off a standard 240-volt power circuit (single phase). Larger more powerful heaters need to be installed on a three-phase power circuit. The technical specs on each heater will clearly display which circuit is required.
Our Warehouse infrared heater pack range is compatible with single phase installations only.
Itís important to initially have an electrician assess the power circuit you have, and also the available power left on that circuit too. This is an important aspect which will support us in providing a workable specification too. Our specification team can accurately advise how much heat you will need, but having a electrical supply which can support the specified system would need to be investigated initially to provide a workable infrared heating specification too.
---