Pizza anyone?
Pizza, a favourite to most, even amongst the pickiest of eaters. What is it about pizza that everyone loves?
Is it the smell of the warm pizza dough cooking or maybe the endless variety of toppings to choose from. Whatever it is, pizza is the perfect comfort food and an ideal choice for family gatherings and parties with friends, any time of year.
The perfect sharing food
When it comes to sharing, Pizza is the perfect food choice. When cooked outside, you can now achieve fantastic tasting delicious pizza. But you'll also create lasting memories and experiences for all to enjoy.
One of the main advantages to making homemade pizzas is it offers the opportunity to get the whole family involved and share the experience together. Whether it is the preparation of ingredients, chopping, slicing, grating or needing the dough, there is role for all to play, no matter their age.
Cooking outside
Pizza is one of the easiest and quickest meals to serve up. When cooked outside they offer more than just a super tasty cooked pizza.
Practical cooking - Outdoor cooking means less smells and smoke inside the house. Offering an easier and quicker clean-up process.
Group activity - Guests, family members, neighbours and even the kids can be involved in the outdoor cooking process. The pressure is taken off the 'chef' and helps bring people together.
Stress relieving - When family and friends are relaxing and socialising you don't want to be left out. Your cooking inside your house while everyone is having fun outside. Using an outdoor pizza oven allows you to be more involved in the event. It is an excellent choice for togetherness!
Entertainment - Take the opportunity to show off your cooking skills when friends and family are at your home. The process of cooking outside is entertainment in itself.
Using gas to cook pizzas
Not everyone has the budget or space for a brick-built pizza oven in their outside space. There is now the option of cooking fresh pizza at home. Gas BBQ Grills are just as popular with pizza lovers and here is why:
More control – Gas Pizza Ovens give users more control over the cooking temperature and therefore the cooking time. Heat from gas is much easier to control than wood fired pizza ovens. Providing instant heat at the twist of a dial, gas offers a more convenient and portable means of cooking.


Crispier dough - The high and direct temperature produced by the gas flame, bounces off the inside walls of the pizza oven and makes the outside of the pizza crisp quickly. Any moisture in the dough is quickly sealed off, preventing the base of the dough from becoming soggy and enhancing the taste and quality of the pizza.


Smaller footprint - Gas pizza ovens occupy less space making them a popular choice with people who might not have the luxury of a large outdoor space in their homes.
Fully portable - In comparison to brick build pizza ovens, gas versions are fully portable and can be move from patio to grass, garden to garden if need be. The Omica Pizza oven has been design with both aesthetics and convenience in mind.


Faster - Gas provides instant heat and cooks quicker that wood or coal flames. This is an important factor to consider if you are cooking for a group/hosting a gathering.


Less cleaning - Once cooked, asides a small wipe down once cool, gas Pizza Ovens are very easy to clean and store away.


Kinder on the nose and neighbours - Unlike wood fires, gas flames hardly give off any smell and certain produce less smoke. You, your neighbours and your guests can enjoy the gathering and leave smelling as fresh as they arrived!


No outdoor restrictions - Many communities/councils, do not allow the burning of wood due to pollution or safety concerns. Gas fires do not have this restriction and there for can be used wherever a gas bottle is present.


Pizza isn't the limit - There is no limits to gas cooking. Much like a conventional gas oven, most foods can be cooked using the Omica 12-inch Pizza Oven.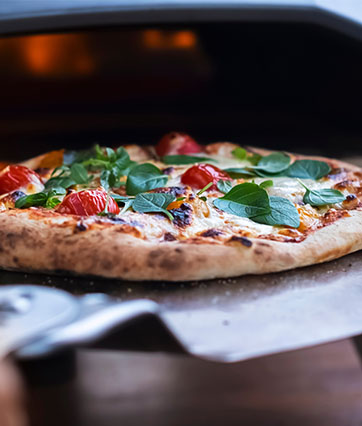 The benefits of outdoor dinning
Dinning outdoors can turn any meal into a social event. Choose to BBQ in the hotter months of summer or decide to embrace the colder weather in the winter months. Enjoy a glass of mulled wine in true festive spirt. Make any event memorable by eating, drinking and socialising outside.
Outdoor dining isn't just a fun, social activity, it is also very beneficial to your overall health.
Increases social interaction and encourages communication – Dinning outside, detaches you and your friends from the distraction of modern-day technology, allowing quality time to be had and memories to be made. Food brings people together. It plays a big part in people's social lives and research suggests that dinning with friends is the most favoured form of socialisation.


Boost in vitamin D - In good weather dinning outside enables you to absorb more vitamin D from the sun. Vitamin D is essential when it comes to strong healthy bones. It can boost your immune system and prevent some autoimmune disorders.


Inspires creativity - Your surroundings play a big part in your mood and mindset. When dinning outside, the setting can provide new scents, visuals, textures and sounds. These all contribute towards mood and mindset. Improved mindset can improve the function of taste buds, meaning you may find you enjoy your meal more, just from sitting outside.
Relax and de-stress - sitting amongst nature can help you unwind and de-stress. Eating outside, surrounded by the sights and sounds of nature can have a positive impact on the mind and relieve stress from the hustle and bustle of busy canteens or food halls.


Improves concentration - Fresh air and good diet has been proven to boost concentration levels. Eating lunch outside, gives you the opportunity to detached yourself from your busy routine and enables you to reset your mind, boosting concentration.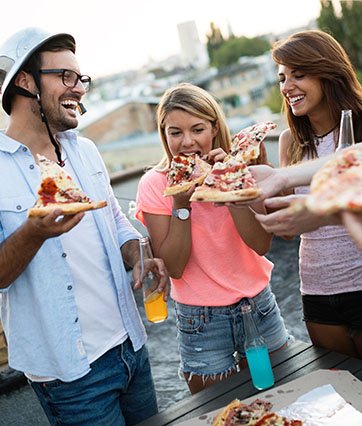 Be sure to check out our range of Omica gas fired pizza ovens and BBQs.