Monolith BBQ's
Is it possible that a 4000 year old concept could revolutionise the way we cook? With the Monolith grill it absolutely is.
Cooking food with a ceramic grill is nothing new. In fact, it is a method that has been practiced for millennia. They result in great-tasting food that everyone can enjoy! Perfect for cooking meat, fish and a wide range of vegetables, you can create delicious meals in an effortless and fuss-free way. Why not enjoy the meal you cook outside without the worry of getting cold on an evening with an electric patio heater? We supply a high-quality range at great prices.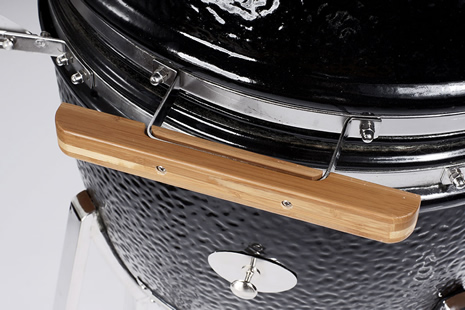 What is a Kamado?
Kamado is a word of Japanese origin, meaning a system of cooking in which a clay or ceramic cooker is used. In the past, they were made from mud, clay and later cement, and used natural resources as fuel, such as stones, wood or coal. Modern Kamado grills are charcoal fuelled ceramic grills which allow for efficient heating and minimal flavour contamination.
In 1970, American serviceman and entrepreneur, Ed Fisher (later to be founder of The Big Green Egg Company) decided to import Kamado grills to the west, after recalling his magnificent experience with them in Japan in the 1950s as Navy lieutenant.
Benefits of a Monolith Grill
The Monolith is the holy grail of Kamado grills. It is gracefully crafted from heat-resistant ceramics and high grade stainless steel components. The inherent properties of the ceramic used in the Monolith, such as conductivity, insulation and resistance to environmental and chemical agents, allow for a stylish and efficient way of utilising this ancient method of cooking.
Monolith grills are constructed from high fire ceramics with an outer surface glaze that is extremely resistant to weathering. The durability of the Monolith is second to none; they do not rust and they will not crack. Temperature of the monolith is controlled by an exceptionally precise temperature control which offers a range of temperatures from 80ºC up to 350ºC.
Whether you want to prepare your food by means of slow cooking, grilling, baking or smoking, the Monolith allows you to achieve the perfect results by combining the advantages of a classic grill with those of a stone oven.
You may have heard of other ceramic grills, such as the Big Green Egg, or Kamado Joe. What makes the Monolith unique is the design and low air circulation which prevents meat from drying out and losing flavour, in addition to the unique system of supplying wood chippings as fuel which allows for a delicious, smoky BBQ taste for meat cooked on the grill. Once you've decided to take your cooking to the next level with a Monolith, your barbecues will be an unforgettable experience.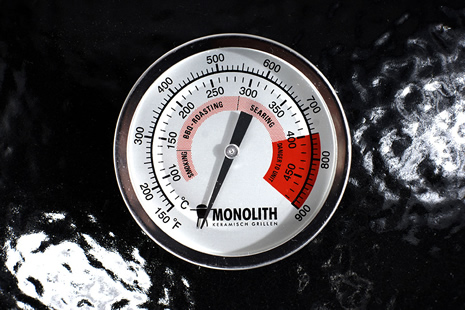 Monolith Variations
The Monolith is available in three different sizes to suit your needs: Classic, Junior and Le Chef. All three variations are available in black or burgundy red colours, and offer the same superior cooking experience.
There are plenty of optional accessories available for the Monolith to make your Kamado experience even more versatile and functional. With the Monolith Classic and Big Chef, you're able to integrate bamboo side shelves or a table constructed from galvanised steel and teak wood to assist you when working with your ingredients and utensils.
Ordering a Monolith
Heat Outdoors is the first, and currently, only, official online retailer of the Monolith. We're very excited about bringing these first class Kamado grills to the UK. We stock the Monolith in our own warehouse so most of the time you should receive your order next working day.