Free and Fast Delivery
From our stock

5 Star Rated
Our customers love us!

UK Company
Shipping worldwide

Friendly Sales Team
Call us for advice
Chillchaser
---
Dragon's Den spotted a winner with this superbly designed range of personal and small business heating and lighting systems. The Zeus and Neptune electric patio heaters incorporate a wealth of excellent features including full remote control operation, separate lighting and outdoor wet weather capabilities. Add to this a well engineered metal casing and wheels to move it around on and you have Chill Chaser - the best in it's class outdoor electric patio heater. If you have any questions about our products please do not hesitate to contact us, we are sure to find the ideal outdoor heating solution for your exact needs.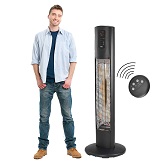 Heat Outdoors Empire 3kW ECO Carbon Infrared Patio Heater
Infrared heating is clean and safe - No pressurised gas bottles or cylinder storage problems. Infrared is silent and odourless allowing you to enjoy peace and quite on your patio. Infrared heaters are clean with no smells and almost maintenance free. Infrared warms instantly at the speed of light. Infrared is efficient with no wasteful heating of the air, it warms the surfaces that it meets and is unaffected by draughts, just like the sun but without the harmful UV. Most of all you will find infrared heating economical with extremely low running costs over two thirds cheaper than gas.
Live Chat