Shadow NOIR Zero Light 1.8kW Patio Heater
£724.80 inc. VAT
£604.00

+ VAT
FREE Delivery on this item!
Waterproof

This item is designed to be fitted and operated outside.

This product is IPx5 – Waterproof

Remote Control

This product can be operated by remote control - handset included.

Hanging/Ceiling Mountable

This heater can be suspended by chains, cables or other fixings (included).

Zero Light

This heater emits almost no visible light whatsoever.
£724.80 inc. VAT
£604.00

+ VAT
FREE Delivery on this item!
Add accessories
Brackets
Code: 900449A
More info
x
Velcro Bracket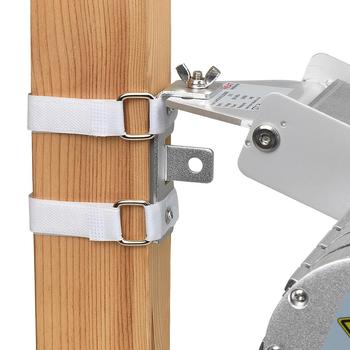 Code: 900449A
Add to basket
Full Details
Heater Mounting Bracket - Velcro
There are many shapes and sizes of heaters available, however, mounting them where needed can sometimes be a challenge.
The Velcro mounting bracket provides excellent support for the heaviest of heaters and can be fixed either vertically or horizontally as needed due to its two fixing points.
The Velcro bracket is an inspirationally designed piece of kit and will fit onto almost any pole, spar, pipe or wooden support whether it is round square or no shape at all such as the branch of a tree! Indoor or outdoor environments. It offers the convenience of complete portability as it can be fixed or removed in seconds allowing a heater that would normally be fixed in place, to be portable and therefore even more functional and versatile.
Pre-order Item
You are about to place an advance order with estimated delivery for
We now have 30 Shadow Noirs heating up our eating area and being enjoyed by thousands of our customers every day and we are currently installing 10 more of them in some of our staff areas too. We ordered 6 x 3.2kw Shadow Noirs, got them out of the box and they looked great, we installed them they are nicely unobtrusive. Unlike other IR heaters they don't light up at all so it's a pleasant surprise when you realise how much heat they are pumping out. We were served by Ciara who was helpful and professional and made sure we had no problems.
Toby Young
Old Spittlefields Market


Product Info
Tech Spec
Remote
Downloads
You May Be Interested In:
Our Happy Customers

Metropolitan Police

BBC CMYRU

Sainsbury's

RNLI Lifeboats

The O2

House of Commons

EDF Energy London Eye

Royal Air Force

Chelsea Football Club

Ministry of Sound

The Belfry

Lucknam Park Hotel

Costa Coffee

Eurostar

Environmental Agency

UNICEF

Coca Cola

Restaurant Gordon Ramsay

Hilton Hotels & Resorts

Westfield London

Wembley Stadium

Virgin

Williams F1

Goodwood

Starbucks

BAFTAS

University of Oxford

Heaven Nightclub

Masterchef

London Paladium

Harvey Nichols

Capital Radio

Cafe Nero

Atomic London