Log Candle 3-Pack
£28.79 inc. VAT
£23.99

+ VAT
£28.79 inc. VAT
£23.99

+ VAT
Add accessories
Holders and Fire Pits
Code: 903003
More info
x
BrownRust Fire Pit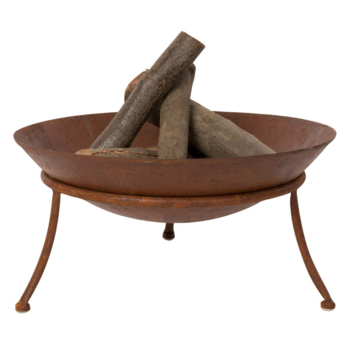 Code: 903003
Add to basket
Full Details
The BrownRust Fire Pit - is one of the more affordable fire bowls in the BrownRust range, with no compromise on attractiveness. The Fire Pit is easy to assemble, simply by putting the Bowl in the base. The base is very solid, so this RedFire fire bowl stands firmly. The fact that the BrownRust Fire Pit's bowl is removable is also a great advantage if you want to clean or empty the bowl after use. The on-trend rusty look gives your garden or terrace an atmospheric rural look whilst providing heat and a stylish accessory for your outdoor area.
The Fire Pit is 47cm in diameter with enough space for several logs at the same time. At a height of 21cm, the fire bowl remains low to the ground. Perfect to sit around, in your chair or garden bench to experience it's warmth and cosy atmosphere.
In short: this small BrownRust Fire Pit might appear small, but provides a large amount of warmth to all those surrounding it's fiery logs.
• Fire bowl with a beautiful rust look
• Easy to use
• Stands firmly
• Easy to clean or to empty
Tech Spec:
BrownRust Steel Swedish Torch Holder
Code: 903005
More info
x
BrownRust Steel Swedish Torch Holder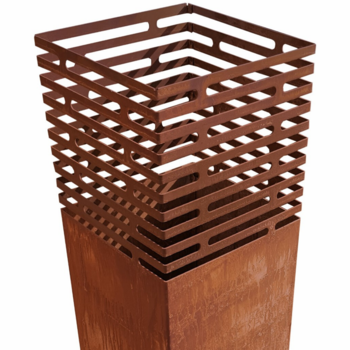 Code: 903005
Add to basket
Full Details
The BrownRust Steel Swedish Torch Holder is ideal for safely burning Swedish torches at a nice height of 100cm. Uniquely designed and suitable for Swedish torches up to 20cm in diameter in its steel frame. The product is handmade and has a natural rust finish.
• Suitable for Swedish torches up to 20cm in diameter
• The holes in the holder give a special effect in the dark
• Stylish handmade product
• Sturdy steel up to 1.5mm thick
Tech Spec:
Our Happy Customers

Eurostar

Environmental Agency

BAFTAS

Goodwood

Sainsbury's

Capital Radio

House of Commons

University of Oxford

Costa Coffee

Heaven Nightclub

Cafe Nero

Williams F1

BBC CMYRU

UNICEF

Hilton Hotels & Resorts

Starbucks

Masterchef

London Paladium

Restaurant Gordon Ramsay

Chelsea Football Club

Virgin

Wembley Stadium

The Belfry

Lucknam Park Hotel

EDF Energy London Eye

Atomic London

RNLI Lifeboats

Metropolitan Police

Royal Air Force

Coca Cola

Harvey Nichols

Ministry of Sound

Westfield London

The O2