Burda TERM 2000 3 x 2kW IP65
£956.65 inc. VAT
£797.21

+ VAT
Gold Lamp

'Gold' refers to the colour of the Infrared lamp coating. All Gold lamps are quartz, halogen with tungsten elements.

This product has a Low Glare Lamp (85% less light)

Wall Mountable

Designed to be wall mounted with a suitable bracket/fixings included.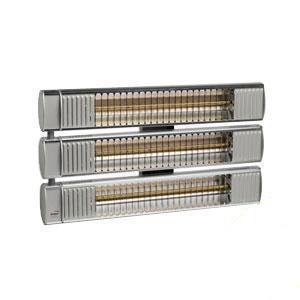 £956.65 inc. VAT
£797.21

+ VAT

This Burda TERM 2000 6kW 3 x 2kW IP65 (waterproof) heater....

Power - 6kW - 3 x 2kW
W x H x D - 62.5 x 32.5 x 12.5cm
Weight - 6,800g (6.8kg)
Colour - Silver (aluminium)
Tube - Philips HeLeN
Protection Class - IP65

Burda TERM 2000 with protection class IP65

The innovation: The new waterproof Burda TERM 2000 IP65! It is equipped with an exclusively for this heater designed infrared HeLeN gold-tube by Philips. Due to the open design (without protection glass) the Burda TERM 2000 IP65 achieves a very high durability of up to 5,000 hours. Elegant and compact at the same time, this heater was created to heat outdoor areas in an uncomplicated way. It is ideally suited for integration in tent and canopy systems. Depending on the power needed, the IP65 is, apart from the single heater, also available as a multiple heater with two or three units.

The Burda TERM 2000 sets design and quality benchmarks with its superior engineering, optimum finish and elegant case crafted from solid aluminium. The highly effective "Bi-Focus" reflectors ensure a broad range of heat. With its broad selection of models - available with "Vertical Burn" tubes for vertical mounting as an option - the TERM 2000 offers an almost unlimited range of uses in extremely compact dimensions.
Our Happy Customers

EDF Energy London Eye

BBC CMYRU

Ministry of Sound

Royal Air Force

Eurostar

Williams F1

Capital Radio

Hilton Hotels & Resorts

Harvey Nichols

Metropolitan Police

Goodwood

Westfield London

Sainsbury's

Cafe Nero

Masterchef

University of Oxford

RNLI Lifeboats

Environmental Agency

The Belfry

House of Commons

The O2

Restaurant Gordon Ramsay

Wembley Stadium

Virgin

Lucknam Park Hotel

London Paladium

Chelsea Football Club

UNICEF

Starbucks

BAFTAS

Costa Coffee

Heaven Nightclub

Coca Cola